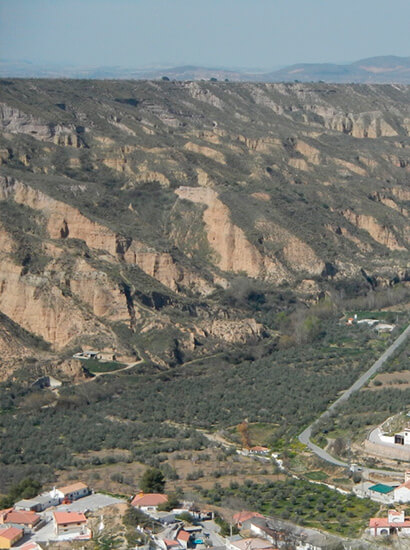 Sites of Geological Interest
Gor gully (Gorafe)
The Gor stream is a linear valley about 30 km long and approximately NNW-SSE that drains the northern part of the Sierra de Baza.
In its way over the Plio-Pleistocene sediments of the Guadix Basin, this stream forms a linear valley with a very sharp engagement. At the present day, due to the semi-arid climate of the region, this stream behaves like a ravine, with no continous flow and recurrent high flow related to heavy
The main characteristic of the Cenascuras-Gorafe section of the Gor stream is the abundance of rotational landslides on both sides of the canyon. Also, although less abundant, there are other types of hillside movements such as flows and landslides. These hillside movements are much more abundant from the midpoint of the section, where the stream begins to widen.
According to their activity, these landslides can be considered as inactive, since most are covered with vegetation and with their feet partially eroded by the most recent fitting (20-40 meters) of the stream. Estos movimientos de ladera son mucho más abundantes a partir del punto medio del tramo, donde el arroyo comienza a ensancharse.
Despite vegetation and erosion, the internal morphology of these rotational landslides is perfectly recognizable. In the field, these rotational landslides have the following characteristics:
the main escarpment is in many cases easily recognizable on the banks of the valley.
the strata in the slipped masses are rotated and with sloping dives.
some landslides show in their lower parts topographic inclinations against the slope, and
some landslides, more specifically those located in the upper parts of the valley, preserve their original morphologies quite well.
Information
Location info
Municipio: Gorafe
Superficie: 75 ha
Periodo: Quaternary (Pleistocene middle-actually)
Coordinates: 37.448286, -3.019719