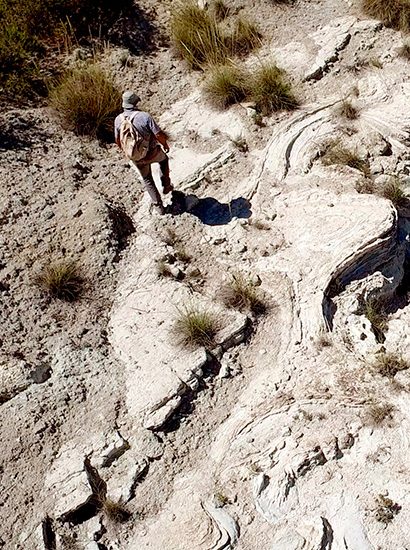 Granada Geopark
Investigation and knowledge
Scientific research in the Granada Geopark dates back to the first half of the 18th century. The first gological monograph on the territory was written by Leo Sieger (1905) and his title was "The Guadix-Baza basin". But it was from the 70s of the last century when research was intensified in the territory due to the discovery of some paleontological marcovertebrates fossil sites that cover the entire lower Pleistocene. The oldest human fossil remains of Western Europe appeared in these sites. Besides this geological facets, stratigraphy and sedimentology are intensely treated, although in the last decade there are many researchers and scientific publications working on the geomorphology and tectonics of the territory.
The different characteristics and singularities related to the Quaternary (powerful successions of endorheic continental sediments, active faults, active folds, paleontological deposits of macrovertebrates, …) have led the Granada Geopark's area to arouse great interest among the international scientific community.
The territory of the Granada Geopark is an area of great interest for geology research and an exceptional laboratory for some specific fields of current affais within Earth Sciences related to the evolution of the climate during the geological period in which we live: the Quaternary.
One of the Granada Geopark's commitments is to transfer the knowledge obtained from investigation to the knowledge and wellbeing of the population in order to raise awareness in the protection of this natural legacy.

Investigation
Geological sites
The inventory of the Granada Geopark includes
72 geological sites
. Some of them have international relevance, like: the paleontological sites of Orce, Fonelas and Huéscar among others, or the underwater volcanism we can see in the surroundings of Alamedilla. These 72 geological sites are mostly located in the
river valleys
that cross the Geopark
and tell us a history that goes beyond the origin of the Guadix-Baza basin,
a history of over 250 million years
. The sites inventory has been carried out (selection and evaluation) following previous works (inventory of the Global Geosites Project  2002-2007/IGME;  Estrategia Andaluza de Geodiversidad/Consejería de Medio Ambiente de la Junta de Andalucía). The list of the geological sites of greatest tourist attraction can be seen
on this map
.