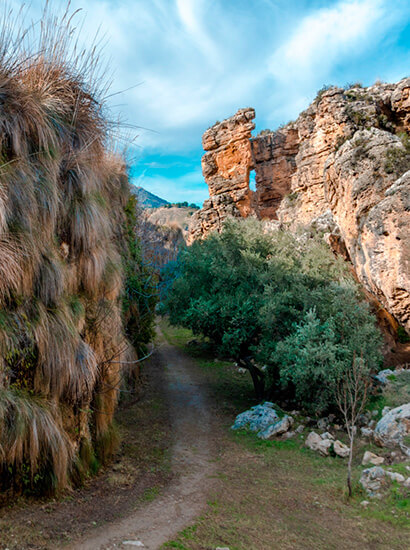 Routes
Acequia del Toril and the Alicún dolmens Route
The route is suitable for everybody, because it's short and easy. It will allow us to enjoy the dolmens near the spa of Alicún and the ditch formed by hot springs.
It starts in front of the Hotel Reina Isabel and heads up the road until we arrive to a path whith several dolmens in good condition. Then you can continue your walk along a path that descends through a site of the Upper Paleolithic.
At the end, we can walk along a limestone wall formed due the rains and sedimentation. We will find a ditch probably used during the Paleolithic and with a length of one kilometer. It is a unique formation in the world and framed as one of the geological points of interest in the Granada Geopark.
Before finishing, we will cross more dolmens to return later to the spa. You can end with a visit to the Spa of Alicún and enjoy the waters and healing properties thanks to beeing sulfate-bicarbonated and calciomagnesic.
Information
Location info
Municipios: Villanueva de las Torres
Longitud del recorrido: 2 km
Duración estimada: 1 hour
Desnivel máximo positivo: 50 m
Inicio: Hotel Reina Isabel in Alicún de las Torres
Final: Spa of Alicún de las Torres
Difficulty in displacement